A Li Ba Ba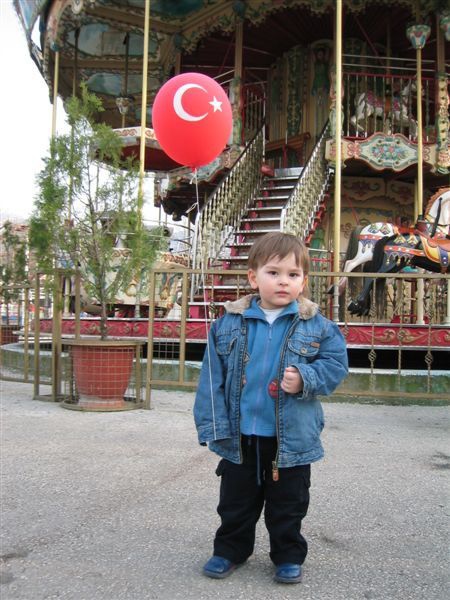 The boy is holding a balloon of Turish flag. Took in Kulturpark (culture park), Bursa. Because of high degree hybrid, every Turkish kid is so cute. Black hair parents may have blond child. On the street you can see blond, mid-eastern type, Indian type, mediterranean type.., but they are all Turkish. p.s. The first Miss World is Miss Turkey!
Gwen's news update:
1. Overcame the Uludag summit (2543m) by foot on August 9th, even left some words in the notebook on the top of the mountain. After the snow covering in winter, Uludag mountain, as the most famous skiing spot, is full of all size of rocks. No trees.It's so hard to climb this steep mountain, moving vertical 1200m in 20 minutes. I met my first ice hailstorm(ice rain) in the mountains and still walked slow bravely! well, because I cannot move faster.
2. Visited Southeaster Anatolia (Gaziantep, Urfa castles, Harran(the first University in the world), Nemrut Mountain(2150m) summit sunrise, and Ataturk Dam) last weekend(Aug 15~17), 16-hour bus trip to reach there. Bring back 180 photos. Also met a Istanbul trainee from Beijing University. We even have common friends! How amazing@ But, when others are curious about the Madarin we are talking about and asked are we come from the same country, She said YES before I say No! I have to explain to these Europeans after. Anyway, the trip is simply great. I will publish them after the pchome newsletter system repairing from Wednesday to Sunday.
3.Start my bally dance course this week. And I learn some dance basic movements from the crazy AIESECers....
4.No big news, 5 weeks left. A bit tired, but never visit Istanbul yet, which take at least 3 days to visit. And I didn't buy my favorite Turkish carpet yet!
5. I know one of the newsletter subscribers is going to Slovakia!! Congradulations! and good luck to your VISA!
some advice for your Preparation package:
a. simple Taiwanese History. They will ask what's the difference between HK and Taiwan, between Taiwan and Thailand, between Japan and Taiwan, between China and Taiwan. Learn some important year in heart so that it's easier to explain them why Taiwan is not China.
b. bring some Chinese and Taiwanese music, because you cannot describe how different it is! And they will ask you how is the dance!
c. Taiwan Map. Memorize simple numbers about the size of Taiwan and the population. Photos and postcards help.
useful website about Taiwan info in English
http://www.lonelyplanet.com
http://www.cia.gov/cia/publications/factbook/index.html
d. Don't rely on technical things and internet too much, just like me. Not many countries are technically like Taiwan.
e. Friends contacts. You will always want to ask them to send you package and want to speak in Chinese after some time! Only at this moment, you know what is really important to you! Food or music, maybe books...
I know there are also some former trainees, current trainees and SN managers in the list. Please reply and give more advice from your experience to this trainee in Slovakia-to-be! Thanks a zillion!
And other friends, please feel free to reply and attend the discussion.
p.s. So, Do you remember the story "ALiBaBa & 40 robbers"? It's one of the stories in "1001 nights", which was happening in Turkey. I always thought "Alibaba" is a cool name, but what does it mean? "Baba" in Turkish means Father, same pronunciation with Chinese one. And "Alibaba" just means "Father Ali", isn't it interesting!!!